Discussion Starter
·
#1
·
Hello friends
My annual pilgrimage to the east coast for the fall salar hunt is drawing very close .
Needless to say the sleepless nights have already started . The rods are all polished and the reels all cleaned . All my lines are stretched , cleaned , coated and organized into the designated sleeves . It won't be long now !!
I must mention there has been some amazing work shown here in our little section of the Speypages !! Some fantastic flytyers that frequent these pages that inspire me to tie and think outside of the box . Thanks to everyone for their contributions here !!
I haven't posted a fly in a while , though I have been tying for the trip . It just seems that every time I get an opportunity to snap a photo , it rains , the wife has extended the "honey-do-list" , the kids are calling .... you know , life happens . This morning was different , last day of my time at home , kids just got off to school and the wife is happy with her cup of coffee on the patio . Good opportunity to take a photo or two .... as my wife giggles at my efforts to try and make the photos interesting :hihi:
Of course she lets out a sigh and rolls her eyes as I quickly grab an opportunity to turn the S-Handles on the Olson's :roll: "Shhush !!" she says as the handles go round , "you'll wake up the neighbours !!" I retort by glaring back and saying "I know ..... fish on !!" . :chuckle::chuckle: She didn't find it as funny as I did .....
I tied a few Brown Wing Killers in hand . I have a couple runs in mind for these
A little closer .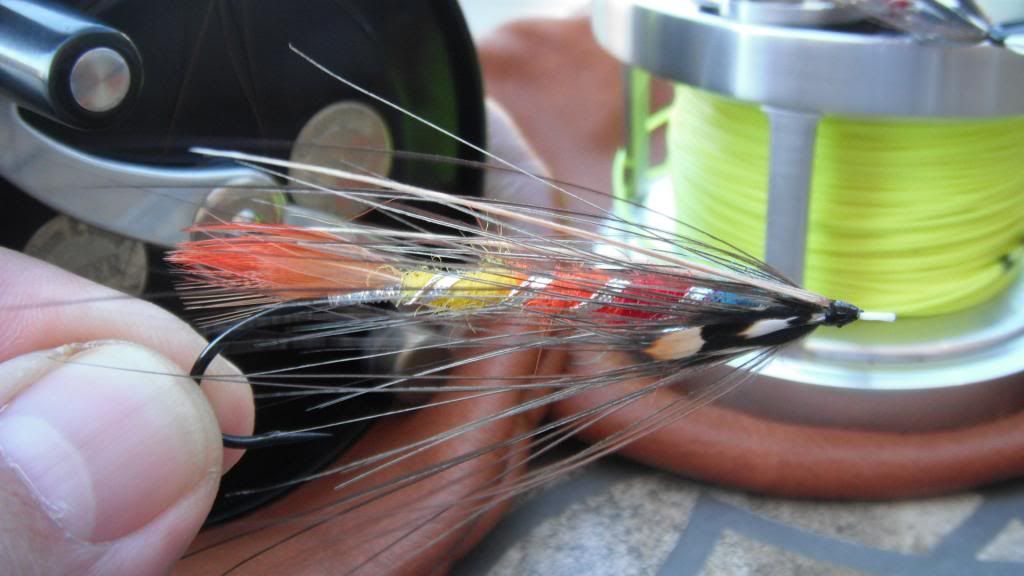 Not quite as per pattern , I used brown heron in front of the grey heron (both are legal) , opposed to red-brown GP . I do like the flow better with the heron , just would like the heron to have a richer colour .
Hope the salmon like them !!
Mike