Discussion Starter
•
#1
•
For Sale: Sage Z Axis 8134 - 4 $590
Downsizing my personal fly rods, this rod is in great shape, I am just not using it enough. Very good condition, this is a factory rod, clean cork, comes with factory rod tube, and sock. My loss is your gain.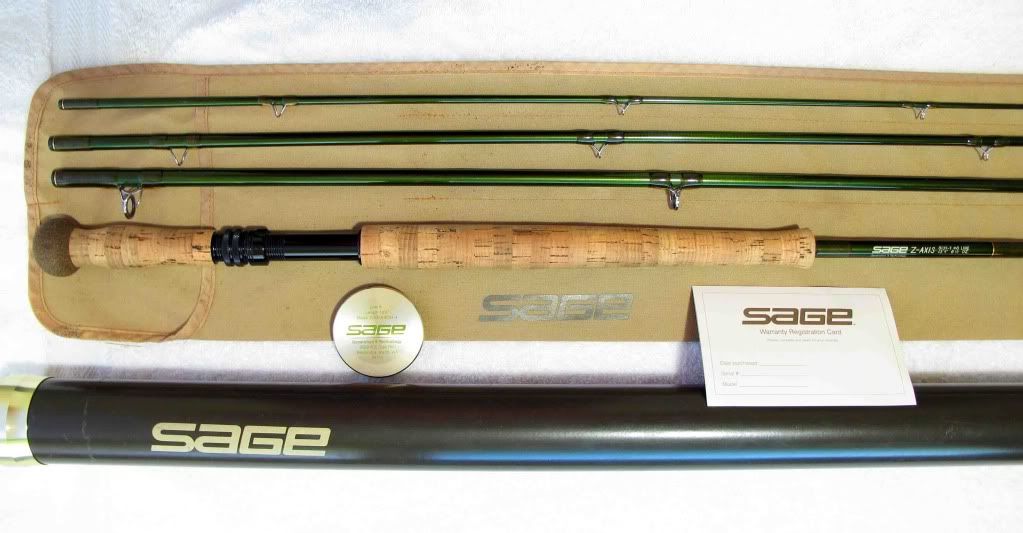 This is what Sage says about this rod:
Sage Z-Axis Spey Fly Rod
We think you will find the Sage Z-Axis Spey Fly Rod is the lightest, longest-casting, most accurate fly rod you have ever thrown. Sage, the world's premier, cutting-edge fly rod manufacturer, went back to the drawing board to create these incredible new Z-Axis Series Fast Action Rods. By improving the entire rod building process, Sage has created a rod that is significantly lighter, stronger and easier to cast for anglers of all skill levels. Through the miracle of Sage Generation 5 (G5) Technology, the Z-Axis has been able to reach previously unattainable levels of line feel, response and performance. These rods are a better fit with todays modern casting style, with the tip strength and progressive power to effortlessly penetrate large flies through the wind.
Sage Z-Axis Spey Fly Rod Features:
* Latest Sage Generation 5 Technology: lighter, faster, and stronger!
* Beautiful, distinctive moss green colored blank
* Ultra-light, British-made snake guides and stripping guides
* Nickel silver reel seat with Imbuya wood insert
* Premium handmade cork handles made from the highest quality Portuguese cork rings
* Includes premium Sage aluminum rod tube
* Backed by the Sage Unconditional Lifetime Warranty
The Science behind the Sage Z-Axis Fly Rod
Incorporate Generation 5 Technology, utilize new Aligned Fiber Technology, new Modulus Positioning System, then add a Proprietary Resin finish. The best rod design team in the world has utilized a broad new spectrum of technologies together in what they call Generation 5 (G5) Technology. By replacing the glass hoop fibers (the fiberglass center) of the rod blank with lighter, stronger graphite fibers, Sage found that during the baking process the graphite fibers bind together. These now bonded fibers produce a stronger fly rod blank combined with much lighter graphite fibers which produces a feel of near weightlessness. There is a lot more technical talk behind what many call the finest fly rod ever produced. But no amount of talk will prepare you for the sense of awe and wonder when you lay your hands on one for the first time.
Specifications:
* Line: 8
* Length: 13'4"
* Sections: 4
* Tube Size: 44 1/2 in
* Weight: 8 1/2 oz
-----
Local pick-up is preferred and hoping that a board member can use this stick.
Thanks for looking at my fly rod for sale, I do my best to photograph and represent my item for sale as best I can. Likewise, I will do my best to minimize the postage costs. Shipping will only be at cost but will vary depending on your location for delivery, The only requirement due to the value of this item is that shipping is trackable and uses signature verification.
I estimate that shipping will be approximately $30 to $35 for the continental Canada & United States. If you have any questions regarding shipping costs please email me before bidding. I will do my best to answer your questions. Buyer is responsible for all import duties and taxes should they be purchasing and shipping to a different country than the origin of sale.
Price: $590.00
Cash or Paypal
If interested, please PM or text with contact information to 604-808-8850