Discussion Starter
•
#1
•
Hello friends
I will start by saying there has been some beautiful fishy flees shared here these past few weeks !!
Some top shelf tying ... and best of all, they're all fishing flees
It's been a while since I shared a flee ... this time home I had the opportunity to work on a few ideas that have been haunting me for some time.
A couple years have passed since I fished a spey fly of old. Mainly because the effort put forth into making the mallard wings just so, would be forever lost after a fish or a few hours of swinging. Does that matter to the fish, probably not, however it dampens my spirit as I witness the wings unfold. So my idea was to replace the mallard with durable turkey, bustard and peafowl. I know it's not a new concept, I've witnessed the vintage flees of Mr.Brown on Colin's site fashioned this way. It has recharged my passion for this style of fly. Such shrimpy goodness in the profile with a long thin body and flowing hackles.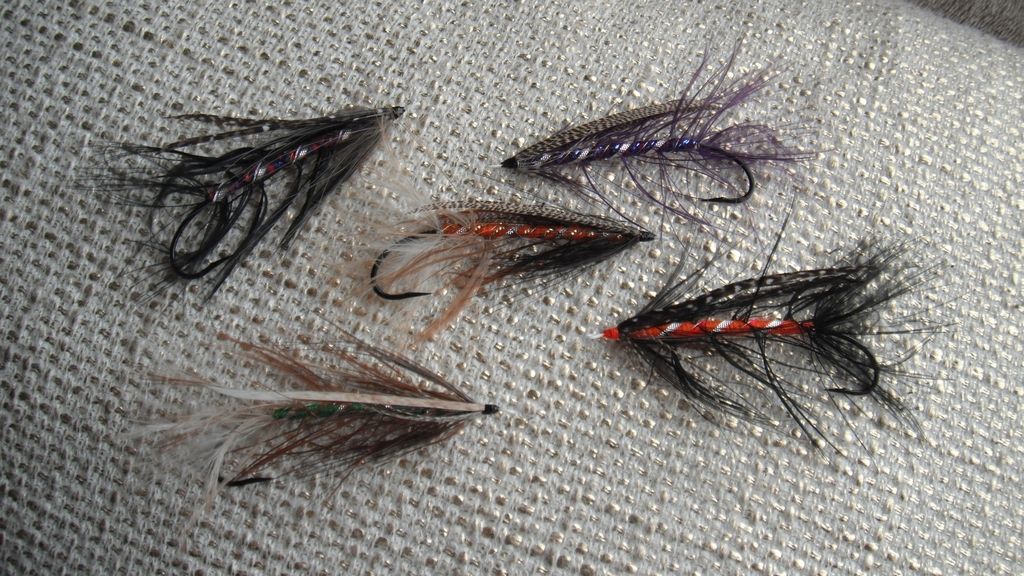 A couple Carron flees with Argus and Bustard and fashioned with the wool from my grandmother's knitting case
The black hackled one has an extra rib of single strand red wool, while the bustard winged one is more like a "King" series with the ribs of gold and silver, like the Green King in the bottom left corner. It's hard to see the extra gold tinsel rib. The two flees on top are my own patterns. On the left is the Notty Raich, with twisted wool body of blue, purple and red. Silver and metallic blue tinsels add a bit of sparkle to the snowflake argus wing. On the right is a Purple and Blue Speal. Much like a Purple King, however gold tinsels replaced with metallic blue and body hackle a dark shade of purple with a couple turns of BEP blood plume for a collar.
I find these flees simple, nothing fancy in the dressing and yet they inspire me to swing them hard on a sunk line.
Mike