DVDS: All DVDS are in pristine or near pristine conditions unless noted: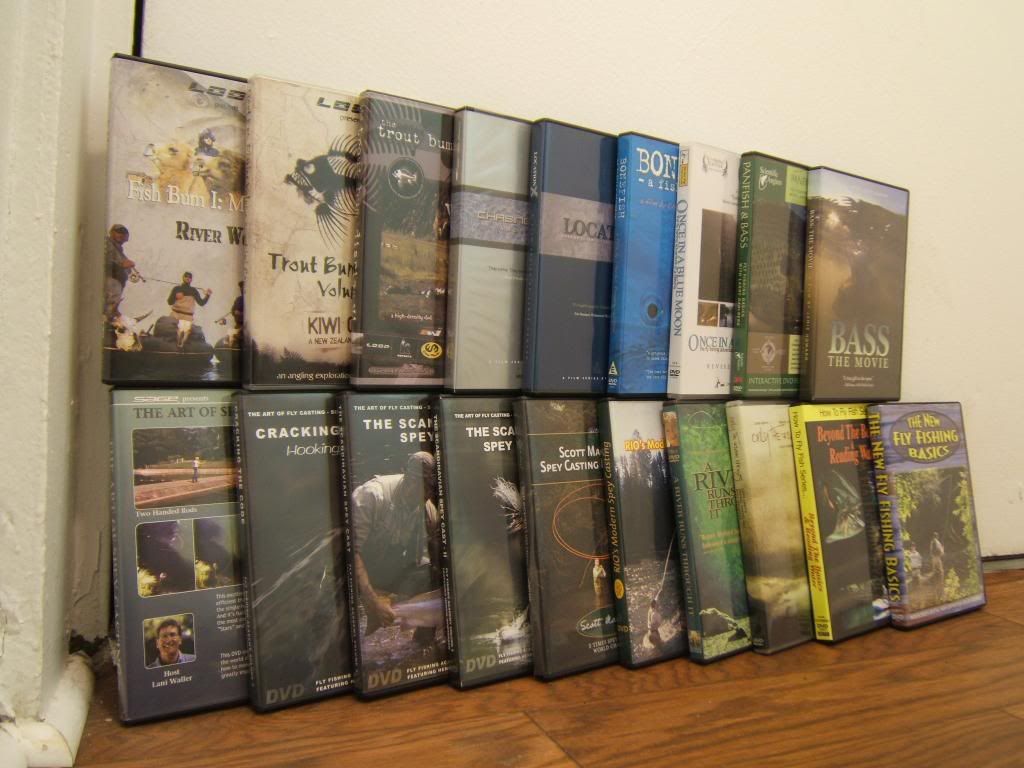 SPEY DVDS:
4.
The Art of Spey Casting (new was $34.95) = asking $26
SOLD
* Hosted by Lani Waller; 2005
* Watch and learn as 17 of the world's best casters share their styles and skills through multi-camera coverage of easy-to-follow demonstrations on rivers in actual fishing situations. Chapters include: 13 detailed demonstrations of spey casting techniques; and 6 Bonus Chapters that include an interview with Mel Krieger; a fun look behind-the-scenes; a casting competition; and interviews with manufacturers/sponsors involved in the production.
LOCATION/ SPECIES DVDS
5.
Chasing Silver, Andy's Return (new was $33) = asking $25
* Hosted by Andy Mill and Capt. John Hearn; 2008
* The toughest challenge ever. We ignored the elements, the late season conditions, and followed Andy down the Florida Keys one more time. With all this on the Fly Line, Andy and guide John O'Hearn headed out with the odds squarely against them. Inculdes: includes: The final two episodes in the Chasing Silver series: An exclusive half-hour tarpon leader and knot tutorial; Inside Andy Mill's fly box and his new secret fly for tough conditions! 90min.
7.
Bonefish, A fishing Odyssey (new was $25) = asking $18
SOLD
* Hosted by Charles Rangeley-Wilson; 2008
* A quest after the catch of a lifetime. A giant specimen of the most spooky fish in the whole wide-blue ocean, the bonefish, ghost of the flat, a fish that will mess with your eyesight, your nerves & your sanity. 54 min.
8.
Once In A Blue Moon (new was $29.95) = asking $23
* Hosted by Jamie Howard; 2007
* The incredible story of a once in a lifetime event. Set amongst the spectacular scenery of southern New Zealand, a most strange and bizarre tale unfolds. The stuff of folklore, 'Once in a Blue Moon' unravels the mystery of an event that occurs briefly once a decade. This strange and unreal journey takes us into some of the most remote and beautiful parts of New Zealand as we follow one anglers quest to document and unravel a childhood mystery and catch the fish of a lifetime.
TECHNICAL/ NOVELLA DVDS
10.
The New Fly Fishing Basics (new was $29.95) = asking $23
* Hosted by Bennett- Watt; 2001
* Detailed instruction by ESPN hosts, Jim and Kelly Watt who produce the Fishing Video Magazine TV show. From casting for freshwater trout in small mountain streams to saltwater fly fishing for Sailfish and Marlin, this instructional program is the product of over 50 years experience gained from fly fishing every conceivable location and situation possible.
12.
A River Runs Through (new was $??) = asking $Make a Reasonable Offer [Collectible]$ (signed by Gary and Jason Borger)
SOLD
* The famed novella produced by Robert Redford, 1992
* Digitally remastered Audio and Video. Both Wide Angle and Full Screen on one disc.
OTHERS NOT LISTED BUT IN PIC ARE ALREADY SOLD (SORRY)
SHIPPING:
• USPS Flat Rate Boxes if in a hurry, If not, I found some boxes to ship, need your address to get shipping price.
• Please consolidate your orders so duplicate shipping is avoided. I will provide shipping total info to ship consolidated order.

PAYMENT:
• Add 3% for Paypal.
• Old Fashion checks are welcome but shipment happens after check clears.

CONTACT:
• First to PM me, first dips on item. PM will time stamp where you are in order on dips in case previous dips falls through.
• As a courtesy to others, please posts reply to posting what items you PM'd on. Also, this will help me as it will prevent my inbox from getting full which prevents me from not getting future PM's.
• If you are in bad need of something you see and you PM me ala carte (one item at a time), please send me a follow-up PM on your consolidated items to help straighten out what you have bided on. This will avoid any confusion and missteps.
• Thank you in advance for your interest. Don't hesitate if you have any questions.