Registered User
Join Date: Apr 2009
Location: Oregon
Posts: 27
first tubes
---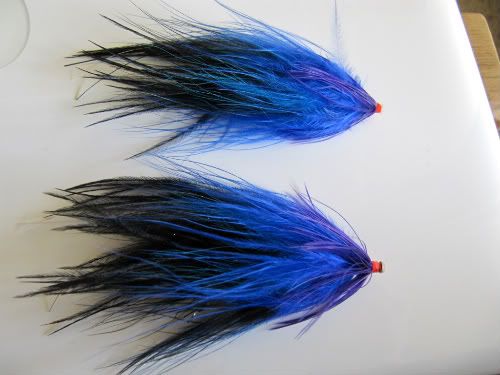 I appreciate all the advice from the veteran tiers who helped me understand what tubes are all about... still have alot to learn.
This is a just a a variation of the sandy river prawn. Thanks to marty for his step by step sequences... for some reason his pattern just looks ten times better
they look great! true test will be how them look in the water. recently I tested some great tubes I thought I had and saw they had no movement in the water.

I don't think that will be a problem in your case. It will be more a question of how collapsed the fly looks in the water. Did you prop the marabou up from behind with some stiffer/broader material?
Those will catch fish anywhere!
In fact, send me 2 dozen, and I'll send you pics to prove it.
Registered User
Join Date: Apr 2009
Location: Oregon
Posts: 27
thanks wrx... yea i dipped this puppy in the sink last night and I loved the shape! The first plume of marabou has nothing to splay it but the second plume (blue) has a cone behind it which splays the artic fox which helps the marabou not to collapse. Not my idea but a good one
They look fine to me....that is one of my fav color combos! I would have 5/32 lead eyes in front.I favor the bright thread at the front as well!
They look awesome!! Pretty soon you'll wonder......where did all my tubes go?.......they can be addicting to tie on.
Posting Rules

You may not post new threads

You may not post replies

You may not post attachments

You may not edit your posts

---

HTML code is Off

---