Married wing
---
Well guy's see some of you great tier's coming up with these married wings so gave it a go, this is only my forth go. so comments on what i have done wrong welcome
, will say with these wings i do find them hard to do with when setting the wing and tying them in , the wing tends to fold on me from the bottom up. what am i doing wrong
i did take these wings off about 6 times before i got it so sit like it is now. still not happy with it. do you tie them in pairs or single.
Is there any one of you out there on the forum, would like to do a step by step on how to hold the wing setting it and taking up on the thread to get them to sit right. PLEASE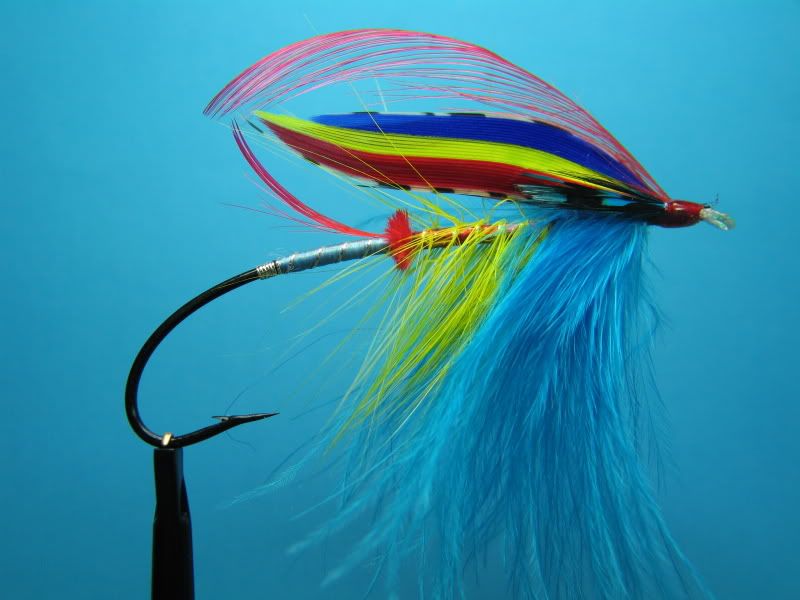 .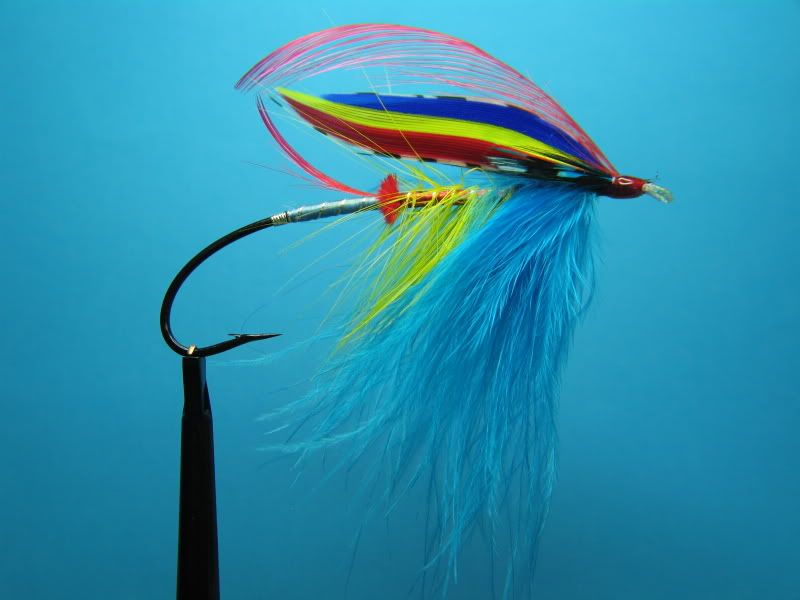 I am finding most things with my tying coming on better with me, but these married wings
but it is only my 4th tie. and i know practice is the way.
Dai
---
Any day with a y in it, is a good day to go fishing
http://daijonesflies.blogspot.com/
That Guy in PEI.....
Practice IS the way Dai. Take three different colored goose shoulders(matched) and make about a dozen three colored wings, now just tie tie and retie them onto a bare hook. You'll get a feel for for setting them on top of the hook and you'll know immediately if they slide to one side or the other.
Jean-Paul Dessaigne's site has some incredible instruction on setting married wings. Actually Jean-Paul covers every step with pictures and video. Sometimes hard to navigate as it is an all french site but worth the trouble.
All I can say is pinch the wings tightly, secure a loose wrap and pull slowly either up or down while continueing to pinch the wings. Only after you feel the wing is secure do i release my grip on the wing,, add to this lots and lots more practice.
As for your fly it really is quite nice and it's been cool to watch your progression this winter. Your patterns 12 months from now are really going to be something to see.
Salmon Chaser
---
There are only two options, you can fish above me or B-LOW me!!!!!
Lifetime Member of the FRSCA
East Coast Skagisil Jedi
DON'T BE A VOGT............
Nice and i agree with salmon chaser in a year it will be WOW

Rocky
Banned
Join Date: Jun 2008
Location: OREGON
Posts: 62
Pullin' Thread
Join Date: Jun 2002
Location: NW Washington
Posts: 4,695
Your married wings are coming along nicely. Dwayne offered some great advice about practicing tying married wings (I'd start with plain strip wings of a single color wide enough for a wing) to a hook devoid of anything other than a bit of thread over and over until it feels right to you. By doing it this way, you only need to concentrate on the wing set and nothing else, which makes learning it easier. One tip is to make the fist wrap of thead a loose pinch wrap over the wing holding tightly onto the wing with your thumb and forefinger and don't pull the thread tight until you are coming up the other side of the hook with the thread. This is known as an upward pull of the thread. The upward pull of the thread will held keep the wing fibers from moving from thread torque.
Cheers Guys, you are all a great help to me, and i am loving the trip doing these tie's.
So now it's practice and practice to the end of the road.
Looked at that link also, very good to.
Dai.
---
Any day with a y in it, is a good day to go fishing
http://daijonesflies.blogspot.com/
Posting Rules

You may not post new threads

You may not post replies

You may not post attachments

You may not edit your posts

---

HTML code is Off

---