Registered User
Join Date: May 2012
Location: the world
Posts: 665
Dirty Orange
---
This is from Malone, tied on a size 1 Mustad 3399 (vintage stock)
A nice wee irish fly.
Eunan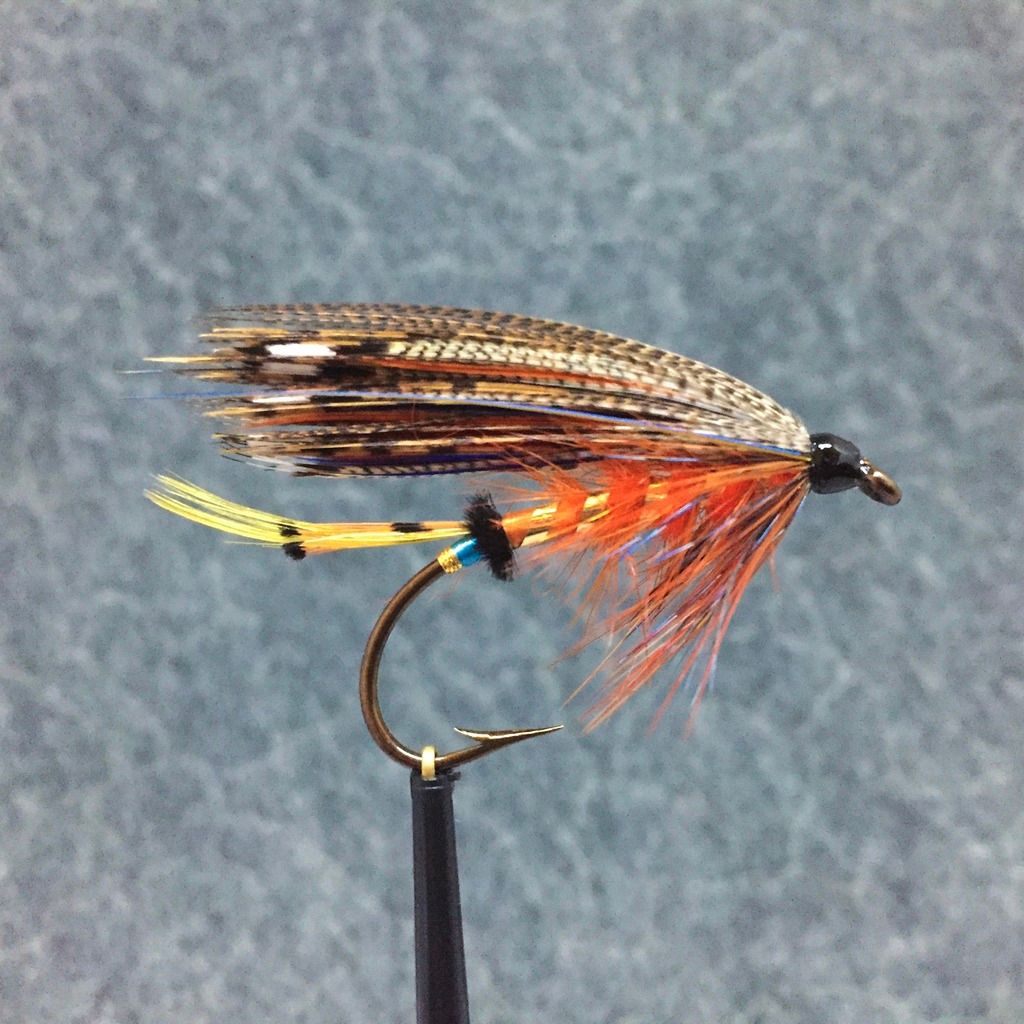 wonderful job Eunan
---
Peace and Love, Good Beer and Whiskey, Nice Flies for Fish.
Wow Eunan, that is done to perfection in my eyes !!
It is a great fishing pattern too
Your material placement is spot on my friend ... outstanding !!
Mike
---
Have you Swung a Spey Fly today ??
Registered User
Join Date: Jun 2011
Location: tasmania
Posts: 398
Niiiice.
---
Hey Eunan, how do you get the head so neat....none of mine look that neat.....
---
The more sophisticated the level of our knowledge is, the more effective we will be in dealing with the natural world.....The 14th Dalai Lama
Registered User
Join Date: May 2012
Location: the world
Posts: 665
Thanks for the kind words.

Tassiespey - for the head i use the 5 on 3 off technique.

The wing is on first - 5 (or more) tight wraps always going towards the eye.
Always count how many thread wraps, the idea is to go back to only two wraps when tying in the next component, then repeat the same process.

I try to keep the butts of the wing and sides on until the very end, just when i'm ready to finish the head. Then i cut them all off at an angle down from the top - the longest fibrers should remaing at the bottom.
On this one, when i did the horns, i tied them in, then pulled the butts around on the opposite side, to create some shape. This was the first time i'd done it this way and i like how it provides a platform for the head shape and to hold the head shaping thread wraps.
Always use waxed thread as the tackiness of the wax allows for the wraps to hold each other and prevent them slipping forward.
Use only the amount of wraps needed tocover and hold the butts, plus a few extra for the desired shape.

Essentially, you should not be putting on 10-15 wraps when you tie each material.

I hope this helps
Nice one Eunan. That's a good coho-charmer: Just judging from what I've seen in the past. And where every bit helps the details on the horns sure helps for me. Thanks!
Registered User
Join Date: Jun 2011
Location: tasmania
Posts: 398
Head wraps
---
Thanks Eunan, out onto the bench and give it a go, torrential rain here this morning and blowing 30+ knots, so i will be indoors for a wee while.

Bevin
---
The more sophisticated the level of our knowledge is, the more effective we will be in dealing with the natural world.....The 14th Dalai Lama
Similar Threads
Thread
Thread Starter
Forum
Replies
Last Post
Kelson's Dirty Orange

BCBound

Hooks, Feathers and Floss

11

12-14-2015

04:14 PM

dirty water help

michifin

Hooks, Feathers and Floss

17

04-13-2013

11:14 AM
Posting Rules

You may not post new threads

You may not post replies

You may not post attachments

You may not edit your posts

---

HTML code is Off

---