Quote:
Maybe wangs look like they are too low calorie affairs (foam?) for the little guys.
You could be right, maybe the small black waker doesn't look nutritious enough and surely wouldn't pass the clean foods test.
---
My Blog:
Dryline Steelhead - Oregon
http://toddhirano.blogspot.com/
Summer and Fall, on the Miramichi system, we often go down to 10's and 12's in low water. In my experience, if you don't do that, you don't hook fish in that skinny water. This little #10 Celtic Beauty hooked 7 salmon (by my lovely Celtic partner Bridget) before we retired it: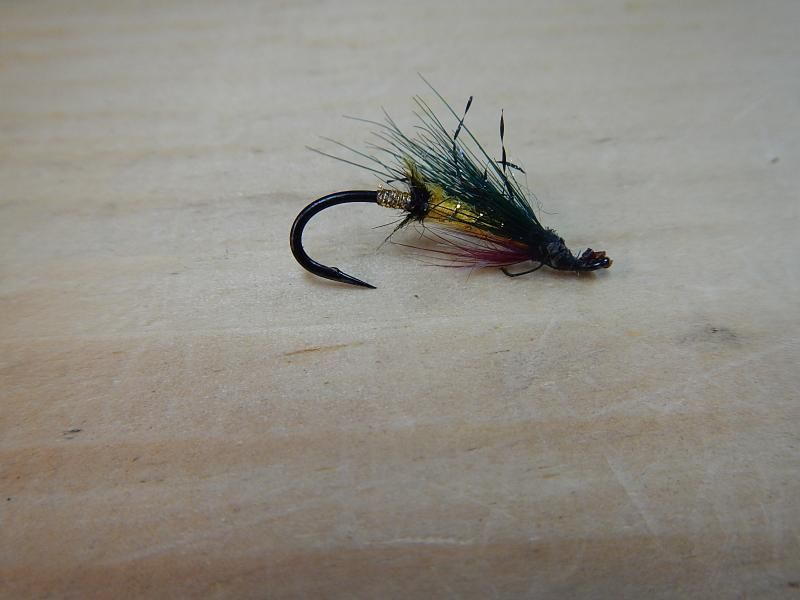 A fly I couldn't do with out in low autumn water is the Sneaky tied on a number 10 hook. It has accounted for a large number of BIG salmon:
For the most part, I've gotten away from tying/using low-water tied flies like this one, probably mostly because I love the durability and weight of hooks like the venerable (and impossible to find anymore) Tiemco 7999 #10:
Gary
---
Last edited by gt05254; 01-27-2017 at

12:28 PM

.
Anglish spoken here
Join Date: Aug 2010
Location: Swedish Norwegian
Posts: 440
Hello.. Small fish isn´t the only nuisance. Ever fished a Atlantic salmon river, with grayling in it?? With plenty of grayling??? I dunno how many I´ve unhooked, they will eagerly grab a 1½" tube.. or anything smaller... Yours borano20
Registered User
Join Date: Nov 2009
Location: Tay,Tweed,Ribble.
Posts: 150
I regularly fish tiny tiny wee flee's for Atlantics,I don't waste any fishing opportunities for Salmon and low warm water is ideal for tiny flees especially when coupled with low flows.Now,when the Smolt migration is in full swing(April ish), these little darlings will grab 'owt,especially if its small and all black, thats the way of things, but usually if you change pools, or move away from them you can solve that issue.Other fish such as Grayling,Brownies and Coarse fish will be inclined to have a chew, but such is life, strangely,change from an all black(Stoats Tail type of flee) to something with a bit more colour!,that does work for me!.
Now size wise, if circumstances dictate I will go as low as a size 16 dressed terrible or double,I regularly fish tubes of 1/4" with a 14 terrible up the back and do fish whats known as the "Full Stop",which is little more than a head and a few hairs on a very tiny tube coupled to a 16 terrible.In no way are the size of these flees indicative of the size of fish that will take them.I get plenty enough high end teenagers on them and at least 4 good 20lb + fish on them including my biggest at 24lb.Usually these days I fish Seaguar leader material coupled with a tapered mono leader or sometimes a poly.,but no lower than 11lb on the point and thats usually on my 6 weight switch with the tiny flees.
My best ever fish from the Tay was 24lb in a good flow on 8lb Maxima Chameleon on my B+W 15ft original Norway with a size 14 Munro Killer-not a low water outfit by any means, but it can be done.
Frequently and daft as it seems the low water presentation of a small flee on a big 'ook can be the culprit.A small flee on a small 'ook,now that looks much more natural and seems to be far more selective towards the intended target.
Just an observation or two.Yorkie.
Wood's beat at Cairnton on the Dee (well actually he leased it from the estate rather than owning it) was & is classic streamy fly water. The Dee is the clearest of all the big 4 Scottish salmon rivers & in low water is crystal clear, quite literally like looking through a glass of neat vodka. Consequently the fish can see very small flies quite easily, even at a considerable range, large flies therefore can appear too obvious & possibly threatening to an early summer fish which is just lying quietly conserving energy for spawning in 5 or 6 months time (different to Autumn when their territorial aggression switches in & they attack any smaller intruders into their territory).

But remember that Wood fished his classic low water dressings, the low water hooks were considerably larger in length & gape than the standard irons of the same numerical size, albeit made of a considerably finer gauge wire to prevent them sinking too deep in gentle flows. These were dressed very short in the classic low water pattern to produce a very small & short dressing - but with a lot of hook protruding at the rear.

I suspect that very small parr attacking the fly would miss the hook entirely if they atrack the dressed body of the fly. Larger fish such as brown trout were not that common on the Dee back then as they were regarded as vermin & thrown up the bank when caught (they were less enlightened times), even sea trout (sea run browns) were regarded as a nuisance by the Victorians & Edwardians (indeed up into the 1970's probably) for whom the salmon was the sole target. Add to this the fact that the runs of salmon back then were massive, far more than we could imagine today, & therefore the incidence of catching small fish V salmon would be much lower than today when salmon numbers are a fraction of what they were then & trout numbers have increased as they are no longer deliberately killed the first time they are caught.

So in today's conditions we are no longer comparing like with like against the conditions in Wood's period; I just wish we still had those numbers of salmon in our rivers!

Regards, Tyke.
I can't say that I've had the issue with small fish grabbing my fly. To me, a small fly is a #8, or the size of a #8. I tie often in the low water style, so a #4 reduced looks pretty close to a #8 standard ... at least between a #6 and #8 anyways. I've tied on Partridge RA1 and RA2 hooks (wee doubles), but ended up using them for trout instead. I find often that I swing a #10 or #12 Blue Charm for trout, or some other salmon pattern. Brookies will take anything
Any of the small fish I have caught while steelheading or salmon fishing, whether grilse, trout or sea trout, have all been on large flies. I just don't have the confidence in really small flies. Good thing too, the hooks are hard to hold in hand when tying.
Mike
---
Have you Swung a Spey Fly today ??
Registered User
Join Date: Feb 2009
Location: Norwegian salmon rivers
Posts: 8
Quote:
Decades ago, after my first reading of Arthur Wood's greased line technique, I copied him and tied sets of flies down to #10, 12. The usual conditions that would warrant use of something that small (low, clear, slow) have been met every time by having small (<8") fish take it -- repeatedly. Mr. Wood never mentioned such a thing in his letters. Beyond the discomfort of having to use a small tippit (in the event of hooking a steelhead), the fly never gets a chance to fish. I'm not referring to those few weeks when smolts are passing through. Then, any fly will hook them (seeing a 5/0 Ackroyd in a 6" smolt is enough to reel up and go elsewhere).
So my question to those that successfully use small flies -- How do you avoid the results I've described. Hoping to learn something here.
(I'd ask A.H.E. but he sits smugly indisposed
)
Like most others i agree that a LW style aproach, is the easiest solution. But...
(Here comes the gasoline to the fire)
To asume that mr Woods size 10 salmonfly equals a modern size 10, is in mine point of wiew a huge longshot.
The only correct answer to this, woluld be to speak to Wood himself. This is not possible as you pointed out. The next option will be verfied measures of Woods actual flies on a modern hook scale (wich i doubt is the case), and identification of the manufcaturer of the hook.
In the times of Woods endeavours, hook sizes were usualy given by the lengt of the hook (in inches). I belive there was at least 5 different hook scales used:
-Phillips
-Ephemera
-Frances
-Chitty
-Redditch (as modern sizes, i belive)
A size 10 Frances equals a size 3 Redditch (both 1 inch). I have no correct answer for you, but there are a handfull of people that can give a fairly conclusive fact based answer. This will be the Blacker project team, including mr Ronn Lucas sr.
They have done some very impressive reserch on this subject. BIG thanks for their groundbreaking work. If anyone want to go deeper into this subject i recomend starting at mr Ronn Lucas sr.
Sorry for the nitpicking, but I enjoy a beautiful Limerick. But still I tie and fish my flies on a modern hook (never smaller than sz 8 wet for salmon).
Hope I didnt stirr up the hornets nest...
Regards, Sig
Very helpful insight Sig !!


Mike
---
Have you Swung a Spey Fly today ??
Registered User
Join Date: Feb 2015
Location: Kalama River
Posts: 206
Not at all, SigurdK. While the inducement to tie and then fish a few patterns from big to small can be attributed to my long ago study of Arthur Wood and his methods, my thread comes from numerous readings on Speypages by anglers reporting their successful use of very small flies for steelhead/salmon. While your explanation of hook sizing in Wood's day is interesting (and appreciated), I believe the reports I'm referring to are using equivalent hook sizing to mine... meaning their #10 is the same size as my #10. While I would like to be able to follow some earlier advice ('just fish where only big fish are'), I must admit to being a very slow learner, as after almost 50yrs of targeting big fish, I still can't avoid the small ones -- especially if I go small with my fly choice.
I have been tying on 6s and 8s, 10s and 12s it is.
I fish 10's and 12's a lot for summer/fall steelhead, and I haven't had an issue with trout or smolt plucking at the fly.

I am always amazed when an adult steelhead picks out a wee fly in a huge river...this represents a big part of the joy I get fishing small bugs.

Tiny beadhead hairwing on a Daiichi 2421 sz12, attached to a fish, and a tiny, well-chewed skater on a Tiemco 3769 sz12
---
The Neil Creek Chronicles
Buster Wants To Fish
Registered User
Join Date: Feb 2015
Location: Kalama River
Posts: 206
Thanks G_Smolt, enjoyed viewing your photos. With the present state of fish runs, I may get my wish (to stop hooking the small ones) by swinging empty rivers.
Undertaker
Join Date: Feb 2013
Location: clackamas
Posts: 928
The Deschutes is loaded with rainbow trout as well as a steelhead. When I nymphed the river a lot, yes, I occasionally caught trout. But, while swinging I have landed more suckers than trout. It still weirds me out to hook a sucker on the swing, but I have watched them gobbling caddis on the surface as well. I can only recall one nice trout I hooked 2 years ago while swinging a muddler - otherwise it's been steelhead or suckers - oh yes, and the occasional pikeminnow. So, unless you're swinging a size 18 pheasant tail or similar, I doubt you will hook many trout.
Registered User
Join Date: Feb 2015
Location: Kalama River
Posts: 206
Thanks, steelhead23. Those Deschutes trout are feeding residents. Except when spawn time nears, their main reason to bite (I believe) is nutritional... much less so, even with arid steelhead rivers when considering adult steelhead.
I don't pretend to know why steelhead bite, but because my 'research' is frequently interrupted by juveniles when swinging small patterns, I might conclude that at least for them (like many youngsters), they lack discretion. Their impulse to grab something that might be food before another does is a likely dynamic. Large (older) trout don't because they don't recognize that swinging fly as food (and may remember a youthful mistake).
That some other anglers have not had the same experiences with small patterns only deepens my mystery.
Posting Rules

You may not post new threads

You may not post replies

You may not post attachments

You may not edit your posts

---

HTML code is Off

---